Houri: Arsal incident confirms the Syrian identity of the cabinet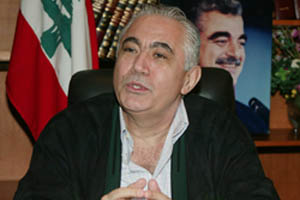 March 14 MP Ammar Houry said on Thursday "what we've seen in the Bekaa town of Arsal confirms the Syrian identity of this government. " He slammed the cabinet for ignoring the violations of the Lebanese territory by the Syrian army during its Wednesday 's session.
Houry, in an interview with Voice of Lebanon , said" the government of Hezbollah exercised neutrality over the Lebanese sovereignty and buried its head in the sand like an ostrich."
He added: "Maybe this government does not consider Arsal and some areas of the north as a Lebanese territory, and therefore its citizens should not be protected by it ."
Houry concluded: "There are those who objected to our branding of the overthrowing of the previous government as a "coup" by Hezbollah and Syria, while the current government is determined each day to to prove our point.
Syria's envoy Ali Abdel Karim Ali was asked yesterday about the incursion of the two Syrian army tanks into the Lebanese village of Arsal earlier on Tuesday, he claimed that "he did not hear about this incident,"but then added :"There is full cooperation with the Lebanese army regarding chasing criminals ( read dissidents) ."
Houri's remarks were made after another Syrian patrol crossed the Lebanese borders, but this time in the North which triggered panic among residents.
According to As-Sharq al-Awsat newspapers Thursday edition, "around ten Syrian soldiers entered the Lebanese territory in the northern town of Halwas and patrolled the area on Wednesday."
The daily quoted an unnamed local resident as saying that "the people are scared of the behavior of Syrian soldiers."
This incident follows another in the Bekaa , which took place on Tuesday. Syrian army tanks crossed the Lebanese border near the town of Aarsal and fired several gunshots within Lebanese territory.
Media outlets reported that the tanks fired in the direction of a battery factory in Aarsal, adding that the Syrian troops suspected fleeing gunmen had taken refuge in the building.
The Lebanese army has until now maintained complete silence about both incidents
Thousands of Syrians have fled into Lebanon in recent months, often using illegal border crossings, to flee the unrest gripping their country.