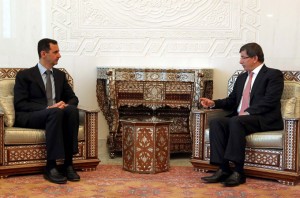 Syria will strike Israel and "set fire" to the Middle East if NATO forces choose to launch a military strike on the protest-ridden country, the Iranian news agency Fars quoted Syrian President Bashar Assad as saying on Tuesday, referring to remarks made by the Syrian leader during a meeting with Turkish Foreign Minister Ahmet Davutoglu last August.
During a meeting with the Turkish FM, the Fars report claimed, Assad indicated that Syria would not hesitate to strike major Israeli cities if it was attacked.
"If a crazy measure is taken against Damascus, I will need not more than 6 hours to transfer hundreds of rockets and missiles to the Golan Heights to fire them at Tel Aviv," Assad said.
In addition, Fars reported that the Syrian president told the Turkish FM that he would also call on Hezbollah in Lebanon to launch a rocket attack on Israel, adding: "All these events will happen in three hours, but in the second three hours, Iran will attack the U.S. warships in the Persian Gulf and the U.S. and European interests will be targeted simultaneously."