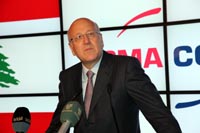 Lebanon Prime Minister Najib Mikati on Monday said that his goal is to "turn Beirut into a city that attracts international companies."
"The aim is to make Beirut an attraction and a hub for international firms," Mikati said during the inauguration of the new headquarters of CMA CGM marine transport company at the capital's port.
The PM also voiced hope that Beirut would remain "the pearl of the Middle East," National News Agency reported.
Until the mid seventies Beirut was the headquarters for most multinational companies but that changed following the civil war which started in 1975.
According to observers Mikati's goal for Beirut is very challenging since a long list of things should be fixed before Beirut could regain its position as a hub for for international firms operating in the middle east