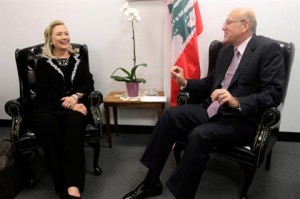 U.S. Secretary of State was told by Lebanese Prime Minister Najib Mikati during a meeting in New York Monday that Lebanon will fulfill its international obligations .
"We discussed many international issues including Lebanon and the prime minister has assured me that Lebanon will meet its international obligations," Clinton said after their meeting.
Mikati is in New York to preside over meetings of the United Nations Security Council, over which Lebanon is presiding in September.
Lebanon is currently under international scrutiny over its funding of the Special Tribunal for Lebanon. The country is yet to pay the 49 percent of the funding for 2011 that it is obliged to provide under U.N. Security Council Resolution 1757 and there are fears that the Iranian and Syrian-backed Hezbollah and its allies, who dominate the government, would attempt to block the decision to provide funding in the Cabinet.
Hezbollah has denounced the tribunal which earlier this year indicted four of its members over the 2005 assassination of former Prime Minister Rafik Hariri.
Syrian crackdown/ sanctions
In a related development Assistant Secretary of State for Near Eastern Affairs Jeffrey Feltman Monday warned Lebanon that it must not provide a cover for Syria to avoid accountability over its violent crackdown on protesters.
"We caution the prime minister that Lebanon needs to be very careful and avoid getting caught up in the unrest in Syria, in terms of not allowing Lebanon to be a way for Syria to avoid sanctions and accountability for the brutality that the Syrian government is showing against its people," Feltman said.