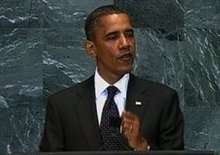 U.S. President Barack Obama told the United Nations on Wednesday that the Palestinians deserved a state of their own, but that this would only be achieved through talks with Israel.
"I am convinced that there is no short cut to the end of a conflict that has endured for decades. Peace will not come through statements and resolutions at the U.N.," Obama said in a speech to the U.N. General Assembly.
"Ultimately, it is Israelis and Palestinians — not us — who must reach agreement on the issues that divide them: on borders and security; on refugees and Jerusalem," the text of his speech said.