UN chief says Lebanon must pay its share of funding STL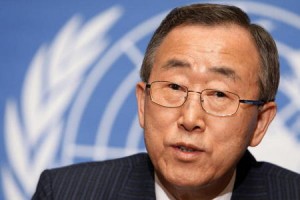 UN Secretary General Ban Ki-moon told An-Nahar newspaper that Lebanon must pay its share of funding the UN-backed Special Tribunal for Lebanon (STL).
An unnamed diplomatic source reportedly said that Prime Minister Najib Mikati "pledged" to Ban during an unannounced side meeting earlier in September that Lebanon will pay its share, An-Nahar added.
The Iranian and Syrian backed Hezbollah-led March 8 coalition which dominates Lebanon's cabinet has opposed a clause in the Lebanese annual state budget pertaining to the funding of the tribunal.
The tribunal was created by a 2007 UN Security Council resolution, at Lebanon's request, to try those responsible for former Prime Minister Rafik Hariri's assassination. He was killed in a suicide car bombing on February 14, 2005.
Lebanon is required to contribute 49 % STL's annual budget
Future Movement official Mustafa Allouch said in remarks published Friday that March 14 MPs "intend to present a draft bill to the parliament that calls for paying Lebanon's share of STL funding
Four Hezbollah members have been indicted by the STL. However, the Shiite group strongly denied the charges and refuses to cooperate with the court.