Turkish PM says Syrian people and I don't believe in Assad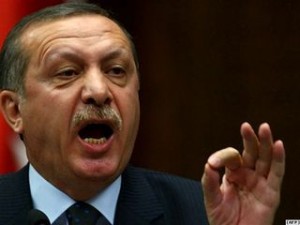 Turkish Prime Minister Tayyip Erdogan said on Tuesday the Syrian people and himself do not believe President Bashar al-Assad anymore because he has failed to carry out reforms.
"As civilian deaths increase in Syria we see that reforms have not materialised and they did not speak honestly. It is not possible to believe this. And the Syrian people do not believe in Assad, nor do I. We also do not believe him," Erdogan said during a speech delivered in Cairo to set out Turkey's vision of the Middle East.
Erdogan, whose country has urged Assad repeatedly to end a crackdown against protesters, stopped short of direclty calling for Assad's resignation, as have the United States and the European Union.
" Nobody can be a friend with or trust an administration that fires bullets at its people and attacks its cities with tanks ," Erdogan said . " A leader who kills his own people has lost his legitimacy ."
Under Turkey's policy of "zero problems" with its neighbours, Turkey boosted its political and commercial ties with Syria, with whom it nearly went to war in the 1990s over Kurdish guerillas having found sanctuary in Damascus.
Erdogan, who earlier spoke at a meeting of Arab League foreign ministers but did criticise Syria then, is in Egypt as part of a tour of three Arab countries to promote Ankara's blend of Islam and democracy as a model of "Arab Spring" uprisings.