Ogassapian: FPM trying to convince Mikati to oppose STL funding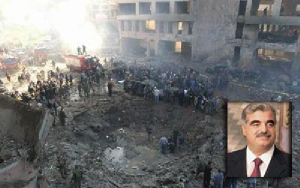 March 14 MP Jean Ogassapian warned on Monday that the Free Patriotic Movement (FPM) which is headed by MP Michel Aoun , a staunch ally of Hezbollah is trying to convince Prime Minister Najib Mikati to take a stand against the issue of Lebanon's share of funding to the UN-backed Special Tribunal for Lebanon (STL).
"The FPM is trying to make Mikati incapable of committing to his promise that Lebanon will pay its share of funding to the STL," he warned during an interview with Voice of Lebanon
"The cabinet is incapable of being responsible," Ogassapian added in reference to Hezbollah's control of the cabinet decisions
Ogassapian, a key member of the Future Movement which is headed by former PM Saad Hariri also said that the March 14 coalition expects Mikati to commit to his promises and propose the issue of STL funding to be discussed in cabinet.
Ogassapian also said that Saad Hariri's unity cabinet had already approved an electricity plan in 2010, adding that his team is calling on the cabinet to submit the previously proposed plan to parliament for approval.
Mikati said in comments published on Friday that the government will commit to paying Lebanon's share of funding for the STL, which is investigating the 2005 assassination of former Prime Minister Rafik Hariri.
The STL is financed by an assortment of donor countries from around the world as well as Lebanon. However, Hezbollah and other March 8 parties and figures have spoken out against Lebanon's ties and funding for the tribunal and called it an Israeli tool to incite sectarian strife in Lebanon.
The Iranian and Syrian -backed Hezbollah brought down PM Saad Hariri's government on January 12 over the Special Tribunal for Lebanon's (STL) imminent indictment.
The Special Tribunal for Lebanon issued the indictments and arrest warrants in the assassination of Lebanon's former PM Hariri on June 30. Two of the suspects Mustafa Badreddine and Salim Ayyash are reportedly senior members of Hezbollah and played leading roles in the assassination while the other two Hezbollah members Hassan Aneissy, also known as Hassan Issa, and Assad Sabra played a supporting role in the execution of the assassination.
Lebanon had 30 days to find and arrest the suspects but Hezbollah chief Sayyed Hasan Nasrallah said on July 2 that the party would not cooperate with the tribunal.
"No Lebanese government will be able to carry out any arrests whether in 30 days, 30 years or even 300 years."