Hezbollah accused of role in Assad's brutal crackdown
Youth Coalition of the Syrian Revolution leader Wahid Saqr on Friday accused Lebanon's Hezbollah group of having deployed armed militias in Syria, assisting the regime there in the brutal crackdown of pro-democracy protesters.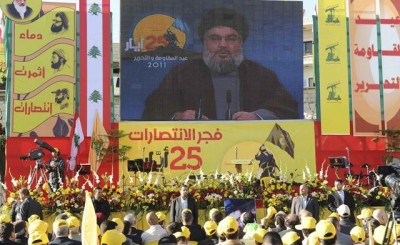 In an interview with Al Arabiya TV, Saqr said the coalition has documented proofs implicating Hezbollah leader Hassan Nasrallah in the bloody crackdown on protesters in Syria. He said Nasrallah has sent armed militias working side by side with Bashar al-Assad's security forces.
Nasrallah on Friday called for a "peaceful resolution" in crisis-hit Syria, warning of regional fallout.
"All those who claim they are friends of Syria … must step up efforts to help calm the situation in Syria and encourage dialogue and a peaceful resolution," he told a massive crowd in the southern village of Maroun al-Ras via video link.
"Anything else is dangerous for Syria, Palestine and the region," the Shiite leader said in a speech to mark "Quds Day," an annual Iranian-inspired event to show solidarity with Palestinians.
Maroun al-Ras was the scene of a May 15 shooting in which Israeli troops fired on thousands of Palestinian refugees marching towards the border with Israel, killing seven and injuring 111, according to the United Nations.
Iranian President Mahmud Ahmadinejad, a major ally of the Syrian regime as well as Hezbollah, on Wednesday also urged the Syrian regime and people to reach a peaceful "understanding."
Nasrallah, whose militant party fought a devastating war with Israel in 2006, accused the West, notably Washington, of aiming to turn Syria into "another Lebanon: confessionally divided … and headed towards partition."
"Lebanon is not immune to the situation in Syria. Negative developments like positive developments will affect the entire region," warned Nasrallah.
The United Nations estimates Syrian security forces have killed more than 2,200 people since demonstrations calling for the ouster of President Bashar al-Assad erupted in March.