Political Cartoonist , Ali Farzat is brutally beaten in Syria
Beirut, Lebanon — Masked gunmen severely beat Syria's best-known political cartoonist on Thursday, breaking his hand and leaving him to bleed on the side of a road in Damascus, activists said.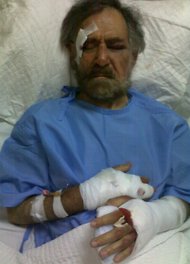 The attack came days after the artist, Ali Farzat, published a cartoon showing President Bashar al-Assad hitching a ride out of town with Col. Muammar el-Qaddafi of Libya, who was toppled from power this week.
Also Thursday, Syrian security forces carried out military operations against antigovernment activists in several areas across the country, killing nine people, activists and residents said.
Since the start of the Syrian uprising in March, Mr. Farzat, whose cartoons are renowned through the Arab world, has aimed his pen at Mr. Assad and his crackdown on protesters.
Activists said that Mr. Farzat was seized at 4:30 a.m. in Umayyad Square in Old Damascus, as he was heading home from his studio. They said he was beaten severely and thrown out of a car along the airport road, where passers-by found him.
A friend of Mr. Farzat's said that two fingers of his left hand were broken, his right arm fractured and his left eye bruised.
Another friend, Ayad Sharbaji, visited him in the hospital and relayed his description of what happened. "They told him as they were burning his beard, 'We'll see what you will draw from now on,' " Mr. Sharbaji said. " 'How dare you disobey your masters?' "
The attackers also stole drawings and other personal belongings, activists and friends said.
The American Embassy in Damascus called it "a government-sponsored, targeted, brutal attack."
"What happened to Ali Farzat today scared us," said an activist from Homs, who wished to be identified only by her first name, Sally. "But it's only a proof of how desperate the regime is. It shows how frightened they are and proves that they are losing control."
In eastern Syria, tanks and armored vehicles entered the town of Shuhail, southeast of the provincial capital, Deir al-Zour, activists and residents said. Daily protests against the government have taken place in Shuhail, they said, since the start of Ramadan.
Security forces also attacked four towns in the province of Dara'a in southern Syria, and Rastan and Talbiseh, two villages near Homs, Syria's third largest city, where there have been large demonstrations. Residents in both areas reported hearing heavy gunfire and loud explosions throughout the day.
The Local Coordination Committees, a group of Syrian activists involved in organizing and documenting the protests, said that four soldiers were also shot dead in Rastan after they refused to fire on protesters and residents. Activists said that a Turkish driver was killed as he was driving through the same village, though the reason was not clear.
The committees said that among those dead was a 9-year-old boy from Baniyas, a city along the Mediterranean Coast that was the scene of a brutal crackdown in May.
The Syrian news agency, Sana, which focuses its reports on the deaths of soldiers it attributes to terrorists, said that armed groups had fired on a military bus in the town of Talbiseh, killing an officer and two soldiers, and that "a terrorist group" had killed five soldiers in Rastan.
The Syrian government has not given a total number of security forces killed in the crackdown on protests, but activists and human rights groups say that about 400 have died. The United Nations says that more than 2,200 people have been killed over the past five months.
New American sanctions imposed over the crackdown have rendered Visa and MasterCard credit cards no longer valid in Syria, officials said Thursday. The Treasury Department added the state-owned Commercial Bank of Syria and its Lebanon-based subsidiary to its sanctions list this month, citing links to human rights abuses and to illegal weapons trade with North Korea.