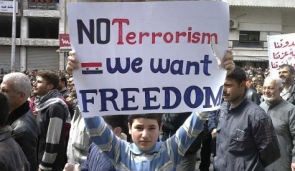 Syrian activists said tanks stormed an eastern city and made sweeping arrests there Wednesday as the regime faced international threats of an arms embargo and new sanctions.
Citing witnesses, the activist group called the Local Coordination Committees said tanks rolled into Deir el-Zour early Wednesday. Deir el-Zour is an oil-rich but impoverished region known for its well-armed clans and tribes whose ties extend across eastern Syria and into Iraq.
The uprising in Syria has lasted for more than five months and shows no signs of stopping. With President Bashar Assad's forces cracking down on the protests, the overall death toll has reached 2,200 since March, the United Nations said this week.
On Tuesday, European nations and the U.S. circulated a draft U.N. Security Council resolution seeking an arms embargo and other sanctions aimed at stopping the crackdown. Syria already is under broad sanctions from the U.S. and European countries, but there are calls for stricter measures now.
Assad has shrugged off broad international condemnation and calls for him to step down, insisting that armed gang and thugs are driving the violence, not true reform-seekers.
Syria has banned foreign media and restricted local coverage, making it impossible to independently confirm events on the ground. While widespread witness accounts and amateur video footage describe a brutal crackdown by security forces, Syria's state-run news agency says security forces are the real victims of well-armed gunmen and religious extremists.
On Wednesday, the official news agency, SANA, released gruesome pictures of 14 decomposing corpses, saying "armed terrorist groups" kidnapped and tortured them in recent days and dumped their bodies around Homs, a city in central Syria that has been a hotbed of protests.
Assad has exploited fears of chaos in Syria, with the regime portraying him as the only man who can guarantee peace in a country with a potentially volatile mix of religious groups.
The opposition, however, says the protest movement is free of sectarian overtones and is simply demanding freedom and democracy. The opposition took steps toward forming a national council Tuesday, but serious divisions and mistrust among the members have prevented them from presenting a unified front against Assad's regime.