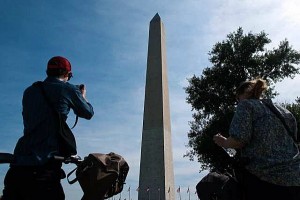 Visitors to one of the capital's most iconic monuments — the Washington Monument — are out of luck: The 5.8-magnitude earthquake that was centered in Virginia on Tuesday and rocked the East Coast from the Carolinas on up to Boston and beyond also caused lasting damage to the world's tallest obelisk.
The National Park Service reported finding cracks in the stones atop the structure, which is also the world's tallest stone monument. Standing at just over 555 feet, it's considered a must-see for visitors to the nation's capital as well as an immediately recognizable landmark that is visible far and wide. On a normal day, a lucky few ticketholders could take the 70-second ride to an observation deck, which is located at 500 feet.
Now, however, visitors will have to make do with a distant look. The monument itself will remain closed indefinitely, although "the Washington Monument grounds have been reopened, except for an area about 100 feet outside of the plaza," according to a National Park Service statement posted on its website.
The extent of damage and how to repair it remain in question. "The NPS will have structural engineers evaluate the cracks on Wednesday to determine the best way to repair the Monument before it is reopened," the park service said.
The earthquake caused the temporary closure of several other memorials and monuments pending a check for damage and to ensure visitor safety. Among those that were closed and have since reopened to the public: the Lincoln Memorial, Jefferson Memorial and the Old Post Office Tower.
The quake also damaged the National Cathedral, although it remains structurally sound. Several spires and decorative elements on the architecturally significant edifice were either damaged or snapped off. Authorities are examining the building to determine how repairs should proceed.