Libyan rebels seize Khadafy's compound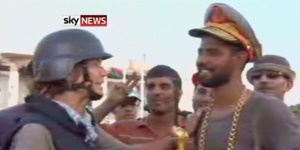 Triumphant rebels seized Moammar Khadafy's compound in Tripoli on Tuesday after a fierce battle with a loyalist rearguard but there was no word on the fate of the Libyan leader who vowed again to fight "to the end."
Reuters journalists watched rebel fighters stream through the sprawling Bab al-Aziziya headquarters compound, firing in the air in celebration after hours of heavy clashes. But it was unclear whether the "Brother Leader" or his sons were still somewhere in the complex's maze of buildings and bunkers.
JUST ONE 'MO' STEP TO VICTORY: REBELS
Defensive fire died away and hundreds of jubilant rebels poured in. Some smashed a statue of Khadafy. Others hunted through dozens of buildings, unchallenged, seizing weaponry and vehicles. The rebels' envoy to the United Nations said the area was "totally in the hands of the revolutionaries."
One man shouted: "It's over. Khadafy is finished."
The Russian head of the World Chess Federation, who visited Khadafy in Tripoli in June, said he had received a call from him on Tuesday afternoon in which Khadafy said he was still in the capital. He "is in Tripoli, he is alive and healthy and is prepared to fight to the end," Kirsan Ilyumzhinov told Reuters.
The rebels' envoy in Rome, Hafed Gaddur, said: "It seems clear that he is confined to his bunker complex."
"We thought Tripoli would be liberated in one month or perhaps even two months, instead that happened in just a few hours, a day, so we've made great progress," he told Reuters.
Western governments, which have backed disparate opposition groups, said they could not be sure where the 69-year-old leader was but urged him to surrender after six months of civil war which have put an end to his four decades of absolute power.
French President Nicolas Sarkozy said after speaking to U.S. President Barack Obama that the end of Khadafy's rule was "inevitable and near."
NATO, which declined to confirm reports that its air forces bombed Khadafy's compound to aid the rebels, said Khadafy's whereabouts were unclear but no longer a major concern.
In Washington, State Department spokeswoman Victoria Nuland said, "There's no question that the Ghadafi regime has nearly collapsed. There's also no question that the best thing he could do for his people would be to relinquish power immediately."
She added that Washington was in "daily, hourly contact" with the rebels' Transitional National Council, which now faces the daunting task of setting up a transition to a new government.
British Foreign Secretary William Hague said in London that the rebels had shown "this is really the death throes of the Ghadafi regime."
But he warned in an interview with Sky, "There will be some dangerous people out there, a lot of weapons out there."
The hunt for the man US President Ronald Reagan once called the "mad dog of the Middle East" seemed the only unfinished piece of the revolutionary puzzle.
Ghadafi's son Saif al Islam, whom the rebels had initially reported under arrest, showed up at Tripoli's Rixos Hotel Tuesday morning and told startled journalists his father and family were still in the capital — but declined to say where.
He also said allowing the rebels to enter the capital was "a trick" but did not elaborate.
In the hours that led up to the storming of the compound in central Tripoli, the sound of the fighting was the most intense heard in the city since rebels arrived three days ago.
A nearby hospital received many casualties and was struggling to cope. At least two people were killed and several others hurt, including a young child, in clashes near the compound, doctors said.
Photo: A rebel wears Khadafy's hat after taking the Libyan leader's compound.