Nasrallah slams STL indictment of Hezbollah members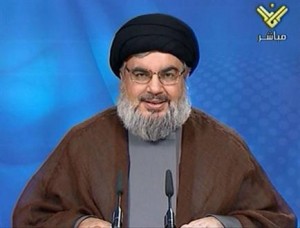 "What was published today supports what have been saying in the past few months that this investigation is neither transparent nor scientific. I call on the Lebanese people to look at the media reports and compare it with the indictment. They tried to hide some numbers to say that not all of it was leaked" Hezbollah chief Sayyed Hassan Nasrallah said on Wednesday evening in a televised speech broadcast on Al Manar in reference to the release of the indictment by Special Tribunal for Lebanon's (STL) .
He said that STL lacked sufficient evidence to implicate the four members of the Iranian-backed militant group in the 2005 murder of former PM Rafik Hariri.
"There is no direct evidence in the entire text… the investigation was built on coincidental telephone communications," he added.
"It is unacceptable that four of our honorable brothers in the resistance be accused, rather, be victims of slander and injustice."
Nasrallah also accused the court of aiming to "destroy the human and social fabric of Lebanon".
"They are trying to destroy the relations between Christians, Sunnis and Shiites to incite hatred that will result in clashes."
The Special Tribunal for Lebanon on Wednesday unsealed large parts of an indictment accusing four Lebanese citizens who are Hezbollah members in the February 14, 2005 bombing that killed Hariri and 21 others in Beirut.
The indictment draws extensively on telecoms evidence against Mustafa Amine Badreddine, Salim Jamil Ayyash, Hussain Hassan Oneissi, and Assad Hassan Sabra, all of whom remain at large.
They face charges that include conspiracy aimed at committing a terrorist act and intentional homicide.
Lebanese officials have said the four are members of Hezbollah, but the indictment stopped short of openly drawing the connection.
"Based on their experience, training, and affiliation with Hezbollah, therefore, it is reasonable to conclude that Badreddine and Ayyash had the capability to undertake the February 14, 2005 attack," the text said.
Nasrallah has repeatedly accused the tribunal of being a US-Israeli conspiracy against his group.
The Hezbollah chief also addressed Thursday's Antelias bombing, saying that March 14 media outlets falsely accused Hezbollah of being involved in the incident.
Two men were killed in Antelias in a parking lot on Thursday when explosives they were handling detonated, causing a huge blast. March 14 figures questioned Interior Minister Marwan Charbel's initial explanation that the incident was a result of a "personal scuffle."
The relatives of both men revealed that they are Hezbollah members