Spain offered Assad and his family asylum, report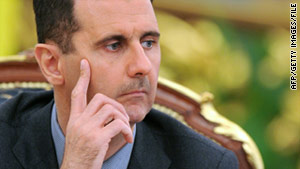 Spain in July sent a secret mission to Syria in an attempt to find a solution to the current conflict there and offer asylum to President Bashar Assad and his family, Spanish newspaper El Pais reported on Monday.
A confidante of Spanish Prime Minister Jose Luis Rodriguez Zapatero, Bernardino Leon, had unsuccessfully put forward proposals for a peaceful transition of power, the paper wrote.
There was no comment from the Spanish government on the report. As the Syrian government's crackdown on demonstrators has become increasingly bloody, Spain had also given up on the proposals, the paper wrote.
Offer rejected
Leon's three-point proposal to the Syrian regime included an immediate halt to the repression, the holding of a national conference in Madrid of all Syrian parties in the conflict that would outline a timetable for transition, and the formation of a new government with members of the opposition.
But the proposal was soundly rejected. "My impression is that (Assad) will not compromise on anything substantial," Leon said on his return, El Pais said. "My interlocutors were totally detached from reality."
Aides to Leon said he did not meet with Assad, but other sources told El Pais that he did. The mission was the last Leon would carry out for the Spanish government before taking up his current post as EU Special Representative for the Southern Mediterranean.
The UN Security Council is due to hold a special meeting on Thursday to discuss human rights and the humanitarian emergency in Syria.
AOL