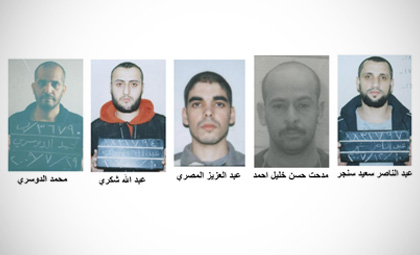 Lebanese Internal Security Forces (ISF) published on Saturday photos of the five inmates who escaped from the Roumieh Prison
According to a statement, the ISF called on the citizens to dial 112 or report to the nearest police stations any information regarding the fugitives.
Militants from the radical Islamist group Fatah al-Islam, which fought deadly battles with the Lebanese army in 2007, escaped from Roumieh's prison on Saturday.
"Five inmates have escaped from Ward D in the Roumieh prison," northeast of Beirut, a Lebanese security official said .
Lebanon's Internal Security Forces said a sixth inmate attempting to flee but was caught inside the prison grounds and was under interrogation.
The five inmates –two Syrians, a Lebanese, a Kuwaiti and two Mauritanians –had sawed through a fence inside the prison, used sheets to rappel from their ward and then mingled with visitors in civilian clothing, the ISF said.
The fugitives were identified as Medhat Hassan Khalil Ahmad, Abdel Aziz Masri, Abdullah Shukri, Mohammad ad-Dousari, and Abdel Nasser Soueid Sanjar.
Roumieh, the oldest and largest of Lebanon's overcrowded prisons, has witnessed sporadic prison breaks in recent years and escalating riots over the past months as inmates living in dire conditions demand fairer treatment.
In the summer of 2007, the Al-Qaeda-inspired Fatah al-Islam led an uprising against the army in the Palestinian refugee camp of Nahr al-Bared in northern Lebanon. The fighting killed over 400 people, including 168 soldiers
The militant group is also accused of being behind twin bus bombings in a Christian suburb northeast of Beirut that left three dead and close to 20 wounded in 2007.