Jumblatt says his objection to Aoun's bill is technical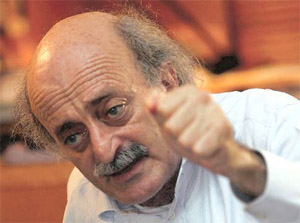 MP Walid Jumblatt, National Front Struggle parliamentary bloc leader said in remarks published on Thursday that his bloc's position on the electricity draft bill during Wednesday's parliament session "is technical," and has nothing to do with taking sides.
On Wednesday the majority of the parliament objected to adopting Change and Reform bloc leader MP Michel Aoun's draft bill .
The electricity project is "a very sensitive issue" that must be thoroughly discussed in the cabinet because it addresses spending a large sum of money, Jumblatt told As-Safir newspaper.
Similarly other Lebanese leaders criticized Aoun's bill. Former Lebanese PM and current Future Movement parliamentary bloc leader MP Fouad Siniora said on Wednesday that the draft bill "should have been complemented with a clear project that shows how it will use the available funding, instead of resorting to borrowing through the Lebanese treasury."
The draft law allows Energy Minister Gebran Bassil, to receive $1.2 billion to implement a project for producing 700 Megawatts of electricity.
"Parliament is facing a test of either lighting Lebanon or leaving it in the dark," Aoun told As Safir newspaper, adding "there is no reason for any team to oppose it."
Aoun called on the Lebanese to occupy parliament "if you want electricity and I will support you."
Siniora described March 8 statements blaming previous governments for the energy crisis as "demagogic," adding, "We must take a look at the names of previous energy ministers and the parties they belong to."