Mufti Jouzo: Hariri killers are killing the Syrian people today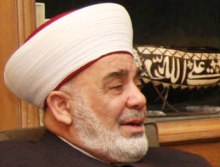 Mufti of Mount Lebanon Sheikh Mohammad Ali Jouzo said on Tuesday during an Iftar that the murderers of former Prime Minister Rafik Hariri "are killing the Syrian people today," National News Agency quoted him Wednesday as saying .
Jouzo, who was representing Grand Mufti of the Republic Mohammad Rashid Qabbani, added that "These criminals cannot escape trial." He did not elaborate
He also criticized Syrian leaders for "killing their people," and called for supporting the Syrian protesters.
The UN Security Council last week issued a presidential statement condemning violence in Syria.
At least 2,000 civilians were killed by the Syrian security forces since the uprising began in mid March according to the Syrian Observatory and hundreds of security people were killed by the Syrian forces loyal to president Bashar al Assad for refusing to fire at protesters .
The Iranian and Syrian -backed Hezbollah brought down PM Saad Hariri's government on January 12 over the Special Tribunal for Lebanon's (STL) imminent indictment.
The Special Tribunal for Lebanon issued the indictments and arrest warrants in the assassination of Lebanon's former PM Hariri on June 30. Two of the suspects Mustafa Badreddine and Salim Ayyash are reportedly senior members of Hezbollah and played leading roles in the assassination while the other two Hezbollah members Hassan Aneissy, also known as Hassan Issa, and Assad Sabra played a supporting role in the execution of the assassination.
Lebanon had 30 days to find and arrest the suspects but Hezbollah chief Sayyed Hasan Nasrallah said on July 2 that the party would not cooperate with the tribunal.
"No Lebanese government will be able to carry out any arrests whether in 30 days, 30 years or even 300 years."