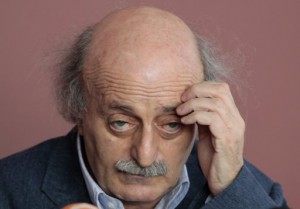 Progressive Socialist Party leader MP Walid Jumblatt returned on Wednesday to Lebanon from a trip to Damascus, where he was accompanied by Public Works and Transportation Minister Ghazi Aridi, the National News Agency reported.
In Damascus Jumblatt met with Mohammed Nassif Assistant to Syrian Vice President and discussed the latest developments.
PSP media department reported that Jumblatt's meeting was "marked by frankness and understanding and it was an occasion to exchange ideas over the latest political developments."
Central News Agency reported on Wednesday that Jumblatt was visiting Syria to deliver a letter from a European country to Syrian President Bashar Assad.
PSP did not reveal why Jumblatt met a lower level official, since he usually meets with president Assad
Jumblatt has repeatedly urged Assad to implement reforms in his country "as soon as possible."
The UN Security Council last week issued a presidential statement condemning violence in Syria.
At least 2,000 civilians were killed by the Syrian security forces since the uprising began in mid March according to the Syrian Observatory and hundreds of security people were killed by the Syrian forces loyal to president Bashar al Assad for refusing to fire at protesters