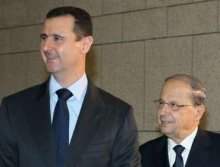 Free patriotic Movement leader MP Michel Aoun said on Tuesday that Syria is calm, adding that when the Syrian army entered Hama last week, it did not use force against the civilians of the city.
"The Syrian army entered Hama without even launching a single shell on the city. What we hear through the media is baseless. Syria is calm," Aoun told the media following his bloc's weekly meeting.
"There is calm in Damascus, Aleppo and the rest of the cities. Sometimes there are some problems in Homs, but nothing dangerous is going on inside Syria."
Aoun also questioned reports on the number of civilians killed in the country, but added that he is "not defending the Syrian regime."
"Foreign powers are conspiring against Syria in an attempt to sever the country's close ties with Iran, the Palestinian Movement Hamas and Hezbollah," Aoun a close of the Iranian and Syrian- backed Hezbollah said
The Syrian army entered Hama in a predawn raid in July 31 that reportedly led to the death of hundreds of civilians. Videos purportedly filmed in the city have shown tanks shelling the city and shooting at civilians.
The UN Security Council last week issued a presidential statement condemning violence in Syria.
At least 2,000 civilians were killed by the Syrian security forces since the uprising began in mid March according to the Syrian Observatory and hundreds of security people were killed by the Syrian forces loyal to president Bashar al Assad for refusing to fire at protesters
This error message is only visible to WordPress admins
Error: No connected account.
Please go to the Instagram Feed settings page to connect an account.