Gemayel: Hezbollah must realize that its project is doomed to fail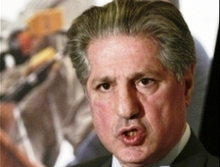 Former Lebanese president and current Phalange party leader Amin Gemayel warned on Friday that Lebanon is facing a "great crisis" and could slide into open warfare.
Some want to establish a statelet or take over the whole country, which poses the danger of open strife, he also said during a speech given on the occasion of the 29th annual conference of his party.
"Before reaching the point of no return, Hezbollah must realize that its project is doomed to fail … We do not accept Hezbollah threatening us with its arms."
The former president called on the Shiite group to turn over the suspects indicted by the Special Tribunal for Lebanon (STL) and to accept the final authority of the state over its weapons.
Gemayel added that his party is ready to work with Hezbollah as partners to draft a new a national pact.
"The Lebanese, Muslims and Christians will not allow anyone to change the identity of Lebanon." He said
He also addressed developments in Syria, saying his party wishes that Syria followed "a democratic model instead of fostering strife."
Over 1600 pro-democracy protesters have been killed by the Syrian security forces .
The Iranian and Syrian -backed Hezbollah brought down PM Saad Hariri's government on January 12 over the Special Tribunal for Lebanon's (STL) imminent indictment.
The Special Tribunal for Lebanon issued the indictments and arrest warrants in the assassination of Lebanon's former PM Hariri on June 30. Two of the suspects Mustafa Badreddine and Salim Ayyash are reportedly senior members of Hezbollah and played leading roles in the assassination while the other two Hezbollah members Hassan Aneissy, also known as Hassan Issa, and Assad Sabra played a supporting role in the execution of the assassination.
Lebanon had 30 days to find and arrest the suspects but Hezbollah chief Sayyed Hasan Nasrallah said on July 2 that the party would not cooperate with the tribunal.
"No Lebanese government will be able to carry out any arrests whether in 30 days, 30 years or even 300 years."