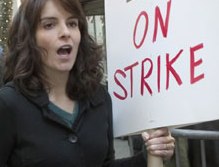 The labor union ( syndicate) of the electric utility company in Lebanon, Electricite Du Liban ( EDL) said in a statement issued Thursday that it will begin an open-ended strike on August 9 if its demands are not met.
The syndicate said that Finance Minister Mohammad Safadi transferred the file of the syndicate's demands to the cabinet because he is "not convinced" of former Finance Minister Rayya al-Hassan's approval of the demands.
Safadi's response
Safadi responded in a statement on Thursday to the syndicate's call for strike by stating that he had informed a syndicate delegation that he will transfer the file containing their demands to the cabinet, which will convene on Monday, adding that the delegation agreed to wait for the cabinet's decision before going ahead with the strike
He added that he transferred the file to the cabinet because the approval of some of the demands by former Finance Minister Rayya al-Hassan during her term, as a care-taker minister, "are not constitutional."
The minister voiced surprise over the syndicate's decision to begin an open-ended strike, and also said that he will carry out all decisions within the law.