Amnesty Int'l: Mubarak trial must be fair and transparent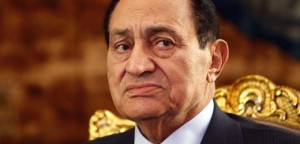 The trial of former Egyptian President Hosni Mubarak must be fair, transparent and reveal the full truth about the unlawful killing of anti-government protesters during this year's mass protests, said human rights group Amnesty International on Tuesday.
Mubarak, his two sons Gamal and Alaa, former Interior Minister Habib al-Adly and six former senior officials are due to stand trial on Wednesday in Cairo.
The men face charges of premeditated murder and attempted murder, arising from the shooting of demonstrators by security forces during the 18-day uprising that lead to Mubarak's removal from power. At least 840 people were killed and thousands injured in the uprising.
Those accused of murder will face the death penalty if convicted.
Egyptian security authorities have received notice to move the ousted president to Cairo for trial, state TV reported on Tuesday. Mubarak has been hospitalized in the Red Sea resort of Sharm el-Sheikh since April, when he was first questioned on the allegations.
"This trial presents a historic opportunity for Egypt to hold a former leader and his inner circle to account for crimes committed during their rule," said Malcolm Smart, Amnesty International's director for the Middle East and North Africa.
"But if the trial is going to be a meaningful break with Egypt's record of impunity, it must be both fair and transparent – justice demands no less. Not only must the trial be fair but it must be seen as fair, not least by the families of those who died during the protests."
Experts perceive Mubarak's trial as a pivotal challenge for Egypt at a time of tension between Egypt's military rulers and revolutionary forces concerning the slow course of justice for former members of the Mubarak regime.
On Tuesday, hundreds of army personnel forcibly ended a sit-in at Tahrir Square, removing tents and arresting scores of protesters. Relatives of those killed in the revolution, who made up most of those remaining in the square as Ramadan began, were reportedly beaten and humiliated by the army.
However, the military-backed civilian government has made various concessions to popular demands, including bowing to calls that the trial be televised.
Amnesty "welcomed the judge's decision agree to live TV broadcasting of the trial, but also urged the court to ensure that those attempting to attend the hearings are not mistreated," said the statement.
Egypt's stock market fell to a 12-week low on Tuesday as jittery investors sold off shares ahead of the trial.