Suleiman to pursue dialogue talks in Beiteddine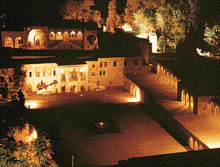 President Michel Suleiman is expected to move to the summer presidential residence in Beiteddine on Tuesday where he is expected to continue his consultations with top Lebanese leaders regarding the national dialogue talks which are aimed at resolving the differences between the March 8 and 14 rival camps.
The Beiteddine palace is located in the Shouf region of MT Lebanon, east of the capital
Ministerial sources told As Safir newspaper on Monday that the president will not give up on this issue .
The sources warned that there would be more division among the Lebanese if they don't meet at the dialogue table.
Suleiman is scheduled to host an Iftar banquet in honor of political and spiritual officials on August 11 where he is expected to stress the importance of dialogue.
Former PM and current Future bloc leader MP Fouad Siniora said in an interview published on Sunday that the national dialogue should "be limited to the issue of Hezbollah's arms so that it will be purposeful and meaningful."
The former PM also voiced the importance of Arab League participation in the national dialogue, adding that Hezbollah should "show a clear will to participate in the government and set a date to implement all the issues that were agreed upon in the previous national dialogues."