Another Hama massacre, over 62 killed on eve of Ramadan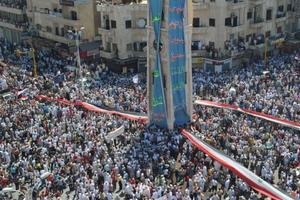 Syrian forces killed at least 62 people and injured dozens in a massive tank assault on the city of Hama to crush anti-regime protests, locals said. One of the residents, a doctor, told Reuters that the tanks were attacking from four different directions and "firing randomly".
According to him, there were 51 people injured at Badr hospital alone, which faces a shortage of blood. He said tanks had surrounded another main hospital, al-Horani. Another eyewitness said snipers had climbed onto the roofs of the state-owned electricity company and the main prison, and that electricity had been cut in eastern parts of the city.
Meanwhile, Syrian forces killed at least six civilians during attacks in the eastern city of Deir ez-Zor late on Saturday. In the city of Bukamal, near the border with Iraq, one resident said: "The city is under raids by security forces since 05:00 (local time), carried out by the military intelligence branch in the city with the support of pro-regime gangs called Chabiha. Several houses were burned. "
The first Hama massacre occurred in February 1982, when the Syrian army, under the orders of the president of Syria Hafez al-Assad ( father of current president Bashar al-Assad ), conducted a scorched earth policy against the town of Hama in order to quell a revolt by the Sunni Muslim community against the regime of al-Assad. The Hama massacre, personally conducted by president Assad's younger brother, Rifaat al-Assad, effectively ended the campaign begun in 1976 by Sunni Islamic groups, including the Muslim Brotherhood, against Assad's regime, whose leaders were disproportionately from president Assad's own Alawite sect.
Al Bawaba