STL releases details on Hezbollah suspects in Hariri murder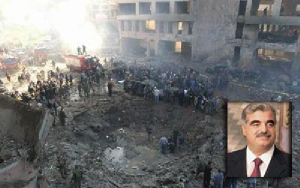 Special Tribunal for Lebanon (STL) Prosecutor Daniel Bellamare issued a press release on Friday in which he said that Pre-Trial Judge Daniel Fransen's decision to lift the confidentiality on the full names and aliases, biographical information, photographs and charges against the individuals named in the indictment "has been taken to increase the likelihood of apprehending the accused in case any of them is seen by the public."
Bellamare reiterated that the indicted suspects "are innocent until the Tribunal has reached a final verdict after the completion of the trial and any appeals."


Here is the press release
Earlier today, the Lebanese people learned the details of those accused of the attack that claimed the lives of 22 people, including former Prime Minister Rafik Hariri on 14 February 2005.
The decision of the Pre-Trial Judge to lift the confidentiality of his Order of 28 June 2011 in part, has allowed the publication of the names, photographs and biographical data of the accused named in the indictment and the charges made against them.
In the words of the Prosecutor, "This step has been taken to increase the likelihood of apprehending the accused in case any of them is seen by the public".
The Prosecutor reiterates that the named individuals are innocent until the Tribunal has reached a final verdict after the completion of the trial and any appeals. Indeed, the arrest of the four accused is only a first step in the process of uncovering the truth.
While the Lebanese Authorities persist in their efforts to arrest the accused, the Office of the Prosecutor continues to investigate and prepare for trial.
For further information, please contact
Daryl A. Mundis, Acting Spokesperson, Office of the Prosecutor
(During the absence of Ms. Boutaud de la Combe and Acting Spokesperson, Gregory Townsend):
Office: +31708003751; Mobile: +31650889203; Email: stl-otppressoffice@un.org