Italy voted to reduce its UNIFIL force by over one third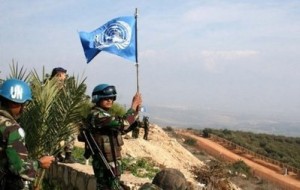 Italy voted Wednesday to reduce the number of its peacekeeping force  in Lebanon by more than one-third, just a day after six French U.N. peacekeepers were wounded in a roadside bomb attack.
Senators voted in favor of reducing Italy's contribution to the U.N. Interim Force in Lebanon by   700 out of  the 1,780 force , as international and local condemnation of Tuesday's attack increased.
President Michel Suleiman telephoned French counterpart Nicholas Sarkozy to express his concern for the victims and called for the speedy apprehension of the bombers.
"Destabilizing security is forbidden under any pretense, especially against friendly states that have sent their troops to help the Lebanese Army in safeguarding security and stability in the country's south and helping implement U.N. Security Council Resolution 1701," a statement from Baabda Palace said.
Former Prime Minister Saad Hariri also condemned what he termed a "terrorist attack."
"Lebanon, in all of its national components, will remain loyal to France's commitments to its causes, and to the role played by the French battalion in the framework of the tasks assigned to it within UNIFIL to maintain security and stability in southern Lebanon," a statement from Hariri's press office said.
Hezbollah and Amal Movement also condemned Thursday the bomb attack and urged the government to find and punish the perpetrators.
"Hezbollah and Amal condemn this criminal act … and call for an urgent investigation into the incident and efforts to find the perpetrators and punish them," said a joint statement issued by Hezbollah and Amal at the end of a coordination meeting in the southern port city of Tyre.