Asarta: Lots of evidence on UNIFIL bombing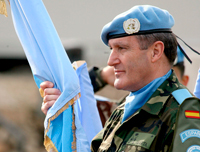 The head of the U.N. peacekeeping force in Lebanon says investigators trying to determine who was responsible for a roadside bomb that injured six French peacekeepers have "a lot of evidence" that will hopefully lead to the perpetrators.
Major-General Alberto Asarta Cuevas wouldn't speculate on who set off Tuesday's bomb in the port city of Sidon as a four-vehicle U.N. convoy was passing by.
"Al-Qaida and Islamic Jihad, why not? Palestinians, why not? Syrians, why not? Israel, why not? … Or even an individual, look at what happened in Oslo some days ago," he said.
Asarta told reporters after briefing the U.N. Security Council Wednesday that three injured peacekeepers were flown back to France, including one with an eye injury.
Sophisticated
According to a report by the Lebanese newspaper Daily Star, preliminary findings of the investigation suggest that the explosive device was detonated by a command wire, allowing it to circumvent the electronic defenses used on UNIFIL vehicles, The Daily Star learned Wednesday.
Components of the command wire were discovered by investigators shortly after the 6 p.m. bomb blast.
The use of a command wire suggests the perpetrator could have been relatively close to the scene of the blast, allowing him or her to see the approaching convoy and set off the bomb as it passed by. The bomb was planted on the edge of a patch of rough ground where a command wire could have been hidden.
An alternative is that the command wire was connected to an electronic receiver, such as a cellphone, located out of range of the convoy's radio frequency jammers. That technique would allow the perpetrator to stand much further away and dial the number of the cellphone connected to the command wire. The cellphone would receive the incoming signal and detonate the bomb via the attached command wire.
It appears that Tuesday's bombing bore similarities to the previous two attacks in the Sidon area against UNIFIL . Security sources said that the bomb was approximately 10 kilograms and was a Claymore-style device which discharged hundreds of steel ball bearings. Investigators found little explosive residue behind the bomb, suggesting that it may have been shaped in such a way to direct the blast laterally against the targeted vehicle.
While the use of shaped-charge techniques shows a certain degree of expertise, it may not help in narrowing down the identity of the perpetrators. The turmoil and insurgencies that have engulfed the Middle East and Asia over the past decade have created numerous skilled practitioners in the art of bomb-making and detonation techniques, some of whom may well reside in Lebanon.
AP, agencies