Jumblatt was touched by Hariri's kind words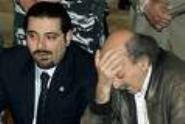 Progressive Socialist Party leader Walid Jumblatt has revealed that he held a phone conversation with former PM Saad Hariri Thursday morning and was touched by his ( Hariri's) kind words
Jumblatt told An Nahar newspaper in remarks published on Friday : I heard "touching words" from Hariri but added "I prefer to keep for myself."
Jumblatt said that he thanked Hariri for his comments during his MTV interview last week
In his interview with MTV Hariri differentiated between Jumblatt and his former allies PM Nagib Mikati and Minister Mohammad Safadi.
"When I said that on March 13 that I was betrayed, I was honestly referring to Safadi and Mikati and actually Lebanon and the Lebanese people were betrayed."
"When we were allied with Mikati in Tripoli [during the 2009 parliamentary elections], did we ally on the basis that we want the truth in Rafik Hariri's murder 'in principal' ? A possible reference to the wording of the ministerial statement about the cabinet's ' in principal' commitment to STL." He added.
"I tell Jumblatt that I respect him. Some in March 14 might see that Jumblatt has made harsh statements against us. I disagree with Jumblatt on that… The rhetoric used between us and Jumblatt was never tense. Jumblatt took a position based on his fear of sectarian strife in the country, but we tell him as Sunnis that there won't be strife in Lebanon."
Jumblatt , Mikati and their blocs defected to the March 8 alliance last January . Both Jumblatt and Mikati were elected by March 14 voters in 2009 elections. Their defections tipped the balance in favor of the Hezbollah led March 8 alliance .
Jumblatt, who returned from Moscow on Wednesday night along with Minister of Public works Ghazi Aridi , said that Russian Foreign Minister Sergei Lavrov has welcomed Hariri's statements and decision not to close the dialogue door with Hezbollah leader Sayyed Hassan Nasrallah.
Hariri told MTV last week that he was ready to meet with Nasrallah but in the presence of witnesses, reportedly because the Hezbollah chief misquoted the former PM on several occasions
"I have never been against dialogue. I am ready for dialogue for the interest of Lebanon. But with complete frankness, if I talk to Sayyed Hassan I want to have witnesses," Hariri said.
Jumblatt stressed the importance of respecting the point of view of others and said Hariri and Nasrallah should hold talks because "we are compelled to coexist and no one could eliminate the other."
Jumblatt backed President Michel Suleiman's call for all-party talks at the Baabda palace
March 14 alliance on the other hand is insisting that the only remaining issue for discussions during the dialogue talks is the Hezbollah arms