Aoun: U.S. aid to Lebanon is ineffective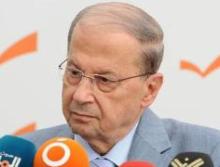 FPM leader MP Michel Aoun told reporters after Change and Reform bloc's weekly meeting that he hopes the new cabinet will meet the people's expectations.
"We hope the new cabinet will meet the people's expectations especially when the issues that the cabinet will look into are all studied. We submitted some projects to the cabinet. The parliament will begin to convene for special sessions to follow up on the cabinet's work.
In reference to the appointment of Brig.-Gen. Abbas Ibrahim as the new director-general of the General Security Department he said.
"It's not important who assumes a position in office, but it's important that he be good at the job".
his comment comes after reports that Maronite Patriarch Bechara Boutros al-Rai is very disappointed with him over the appointment of Ibrahim.
Aoun reportedly told the Patriarch that the matter is in his hands and promised to return this post to the Maronites but the report said Aoun couldn't.
During his press conference today Aoun refused to comment on the reports that Ibrahim follows Hezbollah's agenda .
"I have no comment on this issue. " he said
On reports that the US will cut its aid to Lebanon because of the new cabinet that is dominated by Hezbollah he said :
"U.S. aid to Lebanon is ineffective and it does not affect our daily life. They have only given us ISF equipment and cars. We haven't seen any arms or ammunition. "
A US House panel unveiled a bill Monday that would block US aid to Pakistan, Egypt, Lebanon and the Palestinian Authority unless the Obama administration reassures Congress that they are cooperating in the battling terrorism.
The US considers Hezbollah a terrorist organization.
Lebanon currently receives around $200 million in US aid a year, which includes $105 million in security assistance. Lethal weapons sent to the Lebanese armed forces however, were suspended after the Hariri government fell.
Asked about the attack on a Maronite delegation in Lasa, Jbeil , aoun said :
"We gave a chance for official authorities to carry out a survey, and the Interior Ministry must carry out its legal duty. This does not prevent meetings between relevant officials to resolve the matter through negotiations."
He added: "We hope the situation would be contained to avoid it spreading to other areas. "