MP Salam: The cabinet is one color and the product of a coup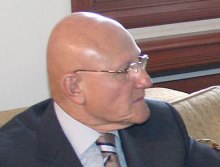 MP Tamam Salam told Al Liwa newspaper in remarks published on Monday that he does not regret his refusal to participate in the cabinet of PM Nagib Mikati because it is a one color cabinet and the product of a coup.
During his interview with the daily MP Salam declared his full support for March 14 's refusal to participate in the cabinet and stressed that he refused to participate for the same reasons adding " whoever thinks that can win through a coup is mistaken , in reference to the coup against the government of former PM Saad Hariri by Hezbollah and its allies.
According to Salam, by accepting to be the PM Mikati is covering up for the coup by Hezbollah and FPM leader MP Michel Aoun to take over the country stressing that the so called centrists will not have a role in the decision making in the cabinet because all the decisions will be taken by those who formed it , in reference to Hezbollah and its allies.
The centrist block includes Mikati, President Michel Suleiman and MP Wald Jumblatt
Salam noted that Beirut, which is the capital of the country is not represented in the cabinet
The Iranian and Syrian -backed Hezbollah brought down Hariri's government on January 12 over the Special Tribunal for Lebanon's (STL) imminent indictment which was widely expected to implicate Hezbollah members in the assassination of former PM Rafik Hariri in 2005
Mikati was appointed as PM Designate in January with the backing of the Hezbollah-led March 8 alliance and MPs Walid Jumblatt and Mohammad Safadi following the collapse of Hariri's unity government. March 14 leaders have repeatedly said that intimidation from Hezbollah's weapons helped secure the parliamentary majority for Mikati's nomination.
Jumblatt and his PSP parliament members reportedly switched allegiance to Hezbollah's PM candidate, following threats by Hezbollah.
Jumblatt, Mikati and Safadi were all elected on March 14 electoral tickets during the 2009 parliamentary elections.