Cabinet appoints Abbas Ibrahim as Lebanon security chief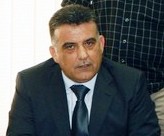 As expected the cabinet on Monday approved the appointment of deputy military intelligence chief Brig.-Gen. Abbas Ibrahim as the new director-general of the General Security Department. Ibrahim was also promoted to the rank of Major General to qualify for the appointment.
The position was most recently held by the late General Wafik Jezzini, a Shiite who passed away last March after suffering from a terminal illness. Jezzini like his predecessor Jamil Al Sayed was very closely associated with Hezbollah . Sayed , who is also a Shiite was one of Syria's top operatives in Lebanon from 1998-2005, when he was imprisoned in connection with the assassination of former Lebanese premier Rafik Hariri .
Ibrahim , like his predecessors is closely associated with Hezbollah. According to Al Manar he played a key role in coordinating army activities with Hezbollah during his previous posts.
Earlier today State Minister Salim Karam, who represents the Marada movement in the cabinet said that he has reservations over the proposed appointment of Ibrahim to the post of General Security chief.
"I was surprised when this item was proposed in the previous cabinet meeting, … we had agreed to specify the cabinet's agenda four or five days prior to its meeting, so that the ministers could study and agree on the items" he told Voice of Lebanon in reference to the appointment of a new General Security chief
"We were notified that this matter was included in today's session… even though it was not set in the agenda."
The March 8-backed minister also rejected holding a national-dialogue session, calling instead for dialogue to be held in the parliament.
According to unconfirmed reports, Maronite Patriarch Bechara Boutros al-Rai, President Michel Suleiman and Change and Reform bloc leader MP Michel Aoun were working on granting the Security position to the Maronites after it was taken from them and granted to the Shiites by former president Emile Lahoud in 1998, for the first time since 1943.
The cabinet also appointed on Monday acting General Security chief Brig.-Gen. Raymond Khattar as director-general of the Civil Defense Department to replace Brig. Gen. Darwish Hobeika.
Information Minister Walid al-Daouq quoted quoted Prime Minister Najib Miqati following the cabinet meeting as saying that "the approved appointments as well as those that will be approved in the future do not represent a victory for one camp and a loss for another."