Lebanese Interior Minister Marwan Charbel said on Friday that he will reveal all the details of the investigation into the case of the seven Estonians once the investigation is completed.
"We have all the information, but we are waiting until the investigation is over. We [will] not disclose anything now to preserve the investigation's confidentiality," he told Voice of Lebanon .
Charbel told VOL that the tourists were not held in Sahel al-Taybi town where they were released.
Local reports indicated that the Estonians were released Thursday morning to a French delegation in the eastern village of Ersal along the Syrian-Lebanese border.
"The security apparatuses have obtained all the necessary information," Charbel stressed.
He noted that the Lebanese security forces were in a full state of "readiness" and "coordinated with the kidnappers of the Estonians."
The Estonians, who were in charge of carrying out the operation on Thursday, were coordinating with the Lebanese authorities, added the interior minister.
Charbel stressed that upon the kidnappers' request, Lebanese security forces did not approach the area where the cyclists were released.
The seven men, in their 30s and early 40s, were freed on Thursday morning after kidnap ordeal of almost four months. They were abducted at gunpoint on March 23 while on a cycling holiday in Lebanon's eastern Bekaa Valley, after arriving from neighboring Syria.
Estonian Foreign Minister Urmas Paet arrived in Beirut on Thursday evening and accompanied the released tourists home, after they were questioned for several hours by a Lebanese judge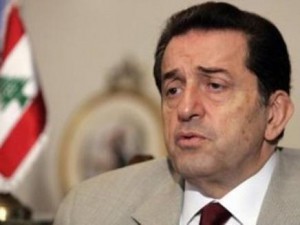 Harb demands immediate release of info
March 14 MP Boutros Harb said on Friday that he demands the government should issue a statement that clarifies all the details of the abduction of the seven Estonians , including "the identity of the kidnappers and the place the Estonians were taken to."
"I congratulate the Lebanese people on the release of the Estonians and want to thank those that cooperated to resolve this mysterious case, especially France and its intelligence services," he told National News Agency.
"However, it is the Lebanese people's right to know how the Estonians were kidnapped and released, who carried out the raids against the abductors, the price of the release and its regional background," he added.
Harb also said that "the Lebanese people also have the right to know what was the role of the security forces, the information branch, the judicial bodies and the Lebanese and non-Lebanese intelligence services in this case."
"It is not normal that the details of such a dangerous and serious case are not revealed to the Lebanese."
This error message is only visible to WordPress admins
Error: No connected account.
Please go to the Instagram Feed settings page to connect an account.