Mikati may quit soon, report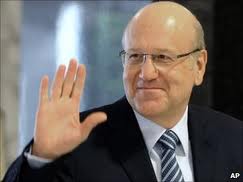 Al Nahar newspaper quoted Western Diplomats as saying that PM Nagib Mikati may quit within weeks or months , because he may not want to be the figurehead of a cabinet.
According to the diplomats , in Theory he along with president Michel Suleiman and MP Walid Jumblatt hold a blocking third in the cabinet as the centrists , but in actual practice this blocking third does not exist …Jumblatt may find it difficult to remain a centrist (even though he prefers being a centrist for many reasons), and it will be difficult to count on Suleiman, whose minster of State in the so called unity government (Adnan Sayyed Hussein ) had the decisive vote in toppling the government of former PM Saad Hariri.
The diplomats stressed that soon Mikati will be facing critical decisions with regards to the Special tribunal for Lebanon (STL) such as funding for the Tribunal , withdrawal of the Lebanese judges from the Tribunal and canceling the protocols signed with the Tribunal. Any action that will negatively affect STL will outrage his Sunni community and his Tripoli constituency , but on the other hand he will be under tremendous pressure to deliver on what he promised Hezbollah and its allies in Iran and Syria .
In and interview with MTV on Tuesday night Former PM Saad Hariri criticized Mikati and Finance Minister Mohammad Safadi accusing them of betraying him and the Lebanese people.
Both Safadi and Mikati were allied with Hariri in the 2009 elections and were elected by March 14 voters. They both defected when Mikati was nominated by Hezbollah to be the PM designate.