Wahhab slams Charbel over Judicial Police chief appointment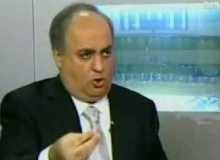 Former minister Wiam Wahhab slammed on Wednesday Lebanese interior minister over the appointment of Judicial Police commander
" The pressure Interior Minister Marwan Charbel is placing to appoint General Naji Masri to the position of Judicial Police commander makes the government vengeful and unfair." He said during an interview with LBC
Wahhab said that his party "will not be a false witness and will not support a government of such kind."
His remarks come after Al-Akhbar newspaper reported Wednesday that Wahhab objects to the appointment because it would come at the expense of Internal Security Forces Training Branch chief Brigadier General Munir Shaaban, who is Wahhab's cousin.
Wahhab, a close ally of Hezbollah and Syria may be expressing the views of his allies over filling this key position which is equivalent to the position of FBI director in the US.
The cabinet was planning to discuss the appointments of the key administration positions during the Thursday meeting but Charbel told As Safir newspaper on Wednesday. that the cabinet will not discuss the interior ministry's new appointment of the director-general of General Security nor the judiciary police chief.
"These appointments are interlinked with other appointments," Charbel said
Update: Al Liwa newspaper reported that Internal Security Chief General Ashraf Rifi has already appointed General Naji Masri as acting Judicial Police chief, pending confirmation by the cabinet . Masri will replace General Salah Eid who has just retired .