Talent show loser threatens to kill Rahbani, father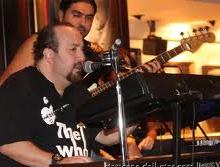 A serious dispute took place at the end of TV talent show program "Sing with Ghassan " (Ghanni maa Ghassan) that is aired on new TV when one of the talent show participants , Assad Jaafar lost , prompting his father to threaten to kill Ghassan Rahbani and his father Elias Rahbani.
The army immediately intervened and helped the program participants and organizers at 'Studio Vision' to leave the premises safely
Ghassan Rahbani told New TV: "Jafar's father called me and threatened to kill me and my father "adding he holds Asaad Jaafar responsible for any harm that happens to him or his dad
About Ghassan Elias Rahbani
A Lebanese producer, song writer, composer, arranger, orchestra conductor, pianist & performer
Ghassan Rahbani has released a total of 18 albums and 1 DVD box named the GRG Trilogy, 12 of the albums are under the name of GRG which stands for the " Gassan Rahbani Group" .
Ghassan is a Pioneer of Heavy Metal music in Lebanon & the Middle East. He spent the first 10 years of his career exclusively producing,writing & composing this genre of music. Ghassan started his activities at the age of 15 by launching his first album (in English) followed by the second & third albums at the age of 16 as a solo artist.
The "Ghanni maa Ghassan" ( Sing with Ghassan) Program is still going strong in its fifth season on New TV, in addition, GR produced and released the "Ghanni maa Ghassan" album containing the songs he composed for the winners in seasons one , two and three