Protesters backed by the Syrian government rallied outside the U.S. Embassy in Damascus for 31 hours this weekend, throwing projectiles at the compound and at one point pelting two Embassy employees with food, the State Department said Sunday. The U.S. has since complained to the Syrian government.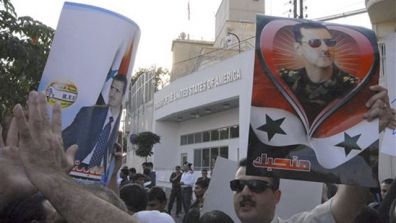 A senior State Department official said Damascus organized the "angry" demonstration, which started Friday and didn't end until Saturday evening, in opposition to U.S. Ambassador Robert Ford's visit to the turbulent city of Hama earlier in the week.
"Protesters eventually threw tomatoes, eggs, and later glass and rocks at the Embassy. Two Embassy employees were struck by food," the official said in a statement.
The official said Ford "registered U.S. displeasure with these events" at a previously scheduled meeting Sunday with Syria's foreign minister.
Syria's minister likewise filed a complaint with Ford over his visit to Hama. However, Ford urged Damascus not to exploit his visit for political gain.
"Ambassador Ford made clear that Syrian government incitement of Syrians against the United States, including through aggressive protesters in front of the Embassy, must stop, and the Syrian government must not use his visit to Hama — meant only to gather information and support freedom of expression — as propaganda," the official said.
Hama was the scene of a massive demonstration Friday against the government of President Bashar Assad. It is also a symbolically important city, being the site where Assad's father Hafez steamrolled a budding rebellion by ordering the massacre of thousands in 1982.
Following the protest outside the U.S. Embassy, Ford called on Syria to protect diplomats and their facilities.
According to the State Department, Syria's foreign minister assured him the government would protect the Embassy and its personnel.
"We expect the Syrian government to do so," the State official said.