Iraq: Sadr freezing Mahdi army even if Americans stayed, report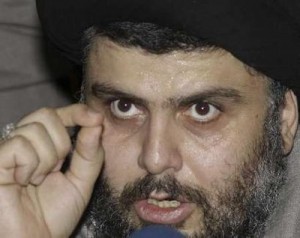 In a statement posted on Moqtada al-Sadr's website on Saturday, the shiite leader said his "Promised Day Brigade" militia would remain at the forefront of the opposition to American forces remaining in Iraq beyond a scheduled pullout at the end of 2011.
But Sadr, who is close to Iran, said he was "freezing the activities of the Mahdi Army," even if the Americans stayed.
"Because of (criminal acts) that were committed — or could be committed (by people claiming to be members of the Mahdi Army), I decided to limit military action to the Promised Day Brigade," he said.
About 46,000 American forces remain in Iraq, down from a high of 170,000 after the 2003 US-led invasion that ousted dictator Saddam Hussein.
All are scheduled to leave at the end of 2011, but Washington has said it is negotiating with Baghdad about the possibility of some forces remaining beyond then if requested.
Last April, Sadr had threatened to revive the Mahdi Army if American troops remained in Iraq beyond the deadline.
"If the Americans don't leave Iraq on time, we will increase the resistance and restart the activities of the Mahdi Army," Sadr had said in a fiery statement read by a spokesman to thousands of followers in Baghdad.
In his latest statement, he said he had hoped that "one day the Mahdi Army could be revived in a new fashion, but there is no hope until these criminals mend their ways," he said.
The Mahdi Army, which fought repeated battles against Iraqi and US-led coalition forces between 2004 and 2007, has been identified by the Pentagon as the main threat to stability in Iraq.
The Promised Day Brigade was created in November 2008 by Sadr to fight against US forces.
American military officials have blamed it, and two other breakaway Shiite groups, for the majority of attacks against American troops, accusing neighbouring Iran of backing the militias.
US forces suffered their deadliest month in three years last June, when 14 soldiers were killed in separate attacks, most of them by rockets fired at military bases.
Washington's top US military officer said Thursday that Iran is stepping up support for Shiite militants in Iraq, supplying them with more sophisticated weapons.
Admiral Mike Mullen said Iran had made a decision to curtail its support for Shiite factions in 2008 but has now increased its activity in Iraq, sending in lethal arms that were being used against American forces.
Sadr said his decision about the Mahdi Army came after a recent incident in the Amine district of eastern Baghdad where a militiaman in a local dispute had called in gunmen who had shot and killed one resident and wounded another.
"I am innocent of all the abuses that people commit in my name," Sadr said.
Before it was disbanded in 2008, the Mahdi Army numbered some 60,000 fighters with fierce loyalty to Sadr.
The anti-US cleric, who has been pursuing off-and-on religious studies in the Iranian clerical centre of Qom, is the son of revered Grand Ayatollah Mohammed Sadiq al-Sadr, who was assassinated by Saddam's regime in 1999.