Gemayel: No point in having a dialogue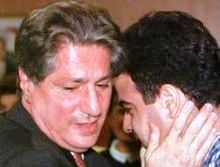 Former Lebanese president and current Phalange Party leader Amin Gemayel told Saudi Okaz newspaper in remarks published on Sunday that there is no point in having a national dialogue due to the political division in the country and the fact that the government is one sided.
Commenting on one of the key dividing issues , the Special Tribunal for Lebanon ( STL) which was created to identify and try the killers of former PM Rafik Hariri and 22 others he said: "Officially Lebanon will ignore STL but the people will hang onto it ." He added that "the Lebanese government should take an honest stance on the tribunal and openly commit to it."
"We will not remain silent over the government's failure to cooperate with the tribunal as justice is our right," Gemayel whose son Pierre ( pictured with him) was one of the 22 others that were assassinated said.
Gemayel labeled the new cabinet as one-sided and aiming at thwarting the STL through Hezbollah's leadership.
"Prime Minister Najib Mikati is a friend, but the government's mission is clear in toppling the tribunal," Gemayel stated.
Other March 14 leaders have voiced similar opinions about dialogue
Deputy Speaker Farid Makar told MTV on Saturday that according to previous experiences, dialogue "did not produce anything," adding that "the result of future national dialogue sessions are already known since President Michel Suleiman who is supposed to chair the talks is no longer capable of exercising sovereign authority ."
Hezbollah brought down PM Saad Hariri's government on January 12 over the Special Tribunal for Lebanon's ( STL) indictment which was widely expected to implicate Hezbollah members in the assassination of former PM Rafik Hariri in 2005.
Minister of State Adnan Sayyed Hussein, a Shiite who represented president Suleiman in the Hariri's cabinet had the decisive vote in the collapse of the cabinet. Hezbollah and its allies had 10 votes in the outgoing cabinet and needed 11 to topple the government.
It was Suleiman's man therefore that helped Hezbollah in overthrowing the cabinet of PM Hariri back in January .
The Special Tribunal for Lebanon issued the indictments in the assassination of Lebanon's former PM Hariri on June 30. An STL delegation met with Lebanon's state prosecutor Said Mirza and handed him a copy of the Lebanon portion of the indictment and the arrest warrants. Two of the suspects Mustafa Badreddine and Salim Ayyash are reportedly senior members of the Iranian and Syrian-backed Hezbollah while the other two Hassan Aneissy, also known as Hassan Issa, and Assad Sabra played a supporting role in the execution of the assassination.