Syria condemns US ambassador's visit to Hama
Syria has accused Washington of "interfering" in its affairs by sending its ambassador to the country to the restive western city of Hama without proper security clearance.
Robert Ford toured the city on Thursday to show solidarity with residents facing a security crackdown after weeks of demonstrations against Bashar al-Assad, Syria's president.
The US state department said its embassy had informed the Syrian government that a diplomatic team, without naming Ford, was travelling to the city and said Ford hoped to stay until Friday.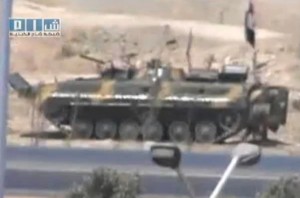 The presence of the US ambassador in Hama without previous permission is obvious proof of a clear evidence of the United States' involvement in current events in Syria and its attempt to incite an escalation in the situation, which disturbs Syria's security and stability," the Syrian foreign ministry said in a statement.
In response, the US state department said: "The fundamental intention was to make absolutely clear with his physical presence that we stand with those Syrians who are expressing their right to speak for change."
Fleeing Hama
About 1,000 people have fled Hama fearing another military crackdown on protests calling for the ousting of al-Assad's regime, a Syrian rights group has said.
The London-based Syrian Observatory for Human Rights said the residents had headed for Salamiyah, a town 30km from Hama, on Thursday, after it said security forces killed at least 23 civilians there and conducted mass arrests since Tuesday.
Hama, which saw about 500,000 people take part in an anti-government rally last Friday, has become the most recent flashpoint city of demonstrations that have rocked the country since March.
Ammar Qurabi, head of the National Organisation for Human Rights, said on Wednesday that an influx of troops following the massive Friday protest had brought a dramatic escalation of "killings and arrests in the city".
But Al-Watan, a state-run newspaper, said on Thursday that the situation in Hama was calm and the barricades erected in the streets by protesters to keep security forces out had been dismantled.
The newspaper said authorities had told demonstrators to avoid any confrontations and clear the streets so residents could go to work.
They also told protesters to avoid a "last resort" military operation, the paper said.
Hama has been a symbolic city of opposition since the 1982 crackdown on a revolt by the banned Muslim Brotherhood against then-president Hafez al-Assad, father of the present leader.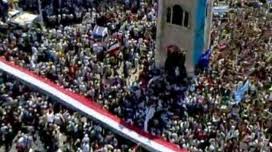 About 20,000 people are believed to have been killed in the crackdown.
There has also been a security crackdown in the city of Hasrata just outside Damascus, the capital, where three people have been killed and nine injured, sources told Al Jazeera.
Security forces surrounded the Hassan mosque on Thursday and fired at people coming out after prayers, the source said.
According to reports police also fired tear gas into the local hospital.