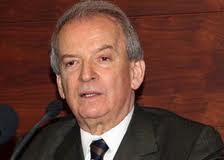 "We are worried about Lebanon because it is heading in the wrong direction… while the Arabs are heading towards democracy we are heading to one party rule …the rule of the party of weapons" March 14 alliance's MP Marwan Hamadeh said Tuesday during the parliamentary session aimed at debating the ministerial policy statement of the cabinet.
Hamadeh was referring to the democratic uprisings in the Arab world away from dictatorships such as in Tunisia, Egypt, Libya and Syria , while Lebanon is now heading towards a dictatorship by the party that has the weapons ( Hezbollah) .
Addressing the clause that deals with the the Special Tribunal for Lebanon (STL) Hamaded demanded that Prime Minister Najib Mikati should amend it and replace it with the clause agreed to in the Doha accord.
"Strike off" the word " in principle" Hamadeh demanded .
"Former PM Rafik Hariri was not assassinated 'in principle' but with real two tons of explosives," Hamadeh said during the first day of the parliament session to discuss the political program of the newly-formed cabinet. The session will last for 3 days following which the newly formed cabinet is hoping to be granted the parliament's vote of confidence.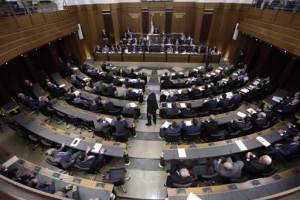 Mikati on Thursday unveiled his government's program, which includes a vague clause saying Lebanon would respect international resolutions as long as they did not threaten civil peace or stability in Lebanon.
"The STL is not anyone's enemy, it is the way to save Lebanon from violence and crime," Hamadeh stressed
Turning to Progressive Socialist Party leader and former ally MP Walid Jumblatt , Hamadeh said : "The STL was not there to protect your father Kamal, but it did protect you when you became a target for assassination."
Kamal Jumblatt, who was the main leader of the anti-government forces in the Lebanese Civil War was assassinated by the Syrian regime on March 16, 1977.
STL could not have protected Hamadeh either when he miraculously survived an attempted  assassination  in October 2004. The van that contained the bomb that was used  to assassinate Hamadeh   reportedly was set up in Hezbollah's stronghold of Al Dahia a Beirut suburb. Hamadeh was reportedly targeted because of his alleged involvement in drafting UN Resolution 1559 which called for disarming all militia ( Hezbollah is the only armed group in Lebanon ) and for for the withdrawal of all foreign troops( Syria at the time had over 14000 troops in Lebanon)
This error message is only visible to WordPress admins
Error: No connected account.
Please go to the Instagram Feed settings page to connect an account.