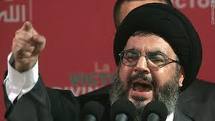 Al Liwa newspaper reported that well informed sources revealed that Hezbollah's third alleged spy goes by the A. B. initials and he is from the town of Maaroub , of Tyre province in south Lebanon.
Hezbollah chief Sayyed Hassan Nasrallah revealed on June 24 that there are 3 Hezbollah members that were suspected of spying for a foreign country. He said two were confirmed spying for the CIA but the party was still investigating the third .
Al Liwa said A.B. also works at his father's shoe factory.
According to the sources A.B. is one of the people responsible for Hezbollah foreign operations and was reportedly recruited by CIA during one of his trips to Dubai/ Abu Dhabi / Cairo. He is also responsible for training other members and has attended several training sessions.
According to the sources Hezbollah gunmen raided his house in south Lebanon and arrested him about two and a half months ago .
Nasrallah said during his June 26th speech: " the discovered spies do not occupy leadership positions. None of them is close to the secretary-general. None of them has anything to do with the military front or the rocket systems. None of them had sensitive information that might have harmed the Resistance's military and security structures and its ability to confront any future war."