DP Speaker: The cabinet belongs to Syria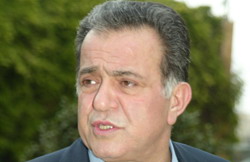 "How can we accept that you will be part of a government in which you don't have a say?" Deputy Parliament Speaker Farid Makari said as he was addressing PM Nagib Mikati during the afternoon session of the first day of Parliamentary debate over the ministerial statement.
Makari told Mikati: " The blocking minority you think you have will be obstructed when it's needed. He is referring to the centrist bloc share in the cabinet .
The newly formed cabinet includes 18 ministers out of 30 who are either Hezbollah members or allies. The other 12 ministers were allocated to the so called centrist bloc which includes 3 for the president , 6 for PM Mikati and 3 for MP Walid Jumblatt.
Jumblatt's share of 3 ministers was included in the centrist bloc , but according to observers Hezbollah considers Jumblatt its ally and thus it controls his share too . Including Jumblatt in the share of Mikati and Suleiman was reportedly a ploy intended to cover up Hezbollah's control of the government .
Makari added: " It appears that the policy statement allowed the possession of illegitimate arms to continue in Lebanon. " A possible reference to Hezbollah's so called " resistance arms "which were pointed at the Lebanese people in May 2008.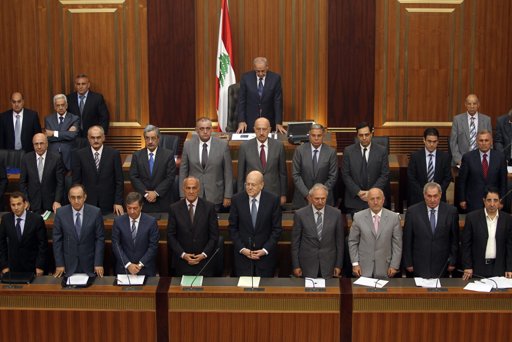 Addressing the issue of the clause in the ministerial statement that relates to the Special Tribunal for Lebanon (STL) Makari said : "We wonder if the policy statement deliberately forgot to mention that the STL was approved unanimously. " He added: " The policy statement indicates that it supports dialogue, while it avoids the national dialogue's agreement on the STL. "
Makari added: "This cabinet suffers from schizophrenia because on one hand it sets Lebanon in confrontation with the international community over the the STL clause and on the other hand it isays that it wants good ties with all sides. "
Makari concluded his statement by saying : "This government belongs to Syria and we refuse the term "in principle" in the STL clause in its policy statement, " adding "the government's concept of good ties with Syria means restoring Syrian hegemony over Lebanon."