Chavez returns to Venezuela from Cuba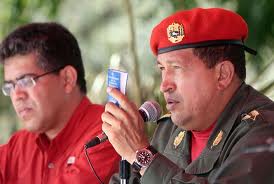 President Hugo Chavez made a surprise return to Venezuela from Cuba before dawn Monday, saying he is feeling better as he recovers from surgery that removed a cancerous tumor.
State television showed the video of Chavez arriving about 2 a.m. local time (2:30 EDT; 0630 GMT). The station didn't air the video until a little after five hours later.
"I'm fine. I'm happy," he said after stepping off the plane. "A perfect landing."
He hugged his vice president, Elias Jaua, and his elder brother, Adan.
In a telephone interview later, the president told state television he was having breakfast. "I'm devouring everything," Chavez said.
Chavez said he spent "very difficult days" in Cuba but that his recovery is going well. "It's the beginning of my return!"
President Raul Castro saw him the Venezuelan on the tarmac as he departed during the night from Havana. From the door of the airplane, Chavez saluted, raised a fist, and then waved.
Chavez arrived a day before the 200th anniversary of Venezuela's declaration of independence from Spain.
He had been in Cuba since June 8 for what ostensibly was a previously scheduled visit. Doctors said he underwent an initial surgery on June 11 to have a pelvic abscess removed and then a follow-up surgery to remove a cancerous "abscessed tumor" from his pelvic region.
Chavez announced the second surgery Thursday after 18 days out of sight. Neither he nor doctors gave details about what kind of cancer it is or what treatment he is receiving.
Jaua said he and others were "very excited to receive our president."
"He's going to rest for a while," Jaua said.
He said that Chavez had plans to address his supporters from the balcony of the presidential palace later Monday.
Photo: President Hugo Chavez with his Vice President Elias Jaua in a file photo. Jaua ( Hawa) who is of Lebanese origin met Chavez at the airport following his return from Cuba