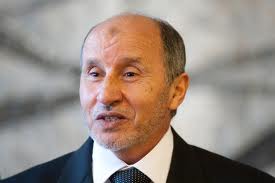 Muammar Gaddafi is welcome to live out his retirement inside Libya as long as he gives up all power, Libya's rebel chief told Reuters on Sunday in the clearest concession the rebels have so far offered.
Gaddafi has fiercely resisted all international calls for him to go and vowed to fight to the end, but members of his inner circle have given indications they are ready to negotiate with the rebels, including on the Libyan leader's future.
Gaddafi is still holding on to power, five months into a rebellion against his 41-year rule and despite a NATO bombardment and an International Criminal Court arrest warrant for crimes against humanity.
"As a peaceful solution, we offered that he can resign and order his soldiers to withdraw from their barracks and positions, and then he can decide either to stay in Libya or abroad," rebel leader Mustafa Abdel Jalil said in an interview.
"If he desires to stay in Libya, we will determine the place and it will be under international supervision. And there will be international supervision of all his movements," said Jalil, who heads the rebels' National Transitional Council.
Speaking to Reuters in his eastern Libyan stronghold of Benghazi, Abdel Jalil, Gaddafi's former justice minister, said he made the proposal about a month ago through the United Nations but had yet to receive any response from Tripoli.
He said one suggestion was that Gaddafi could spend his retirement under guard in a military barracks.
The conflict in Libya is close to deadlock, with rebels on three fronts unable to make a decisive advance towards the Libyan capital and growing strains inside NATO about the cost of the operation and the lack of a military breakthrough.
Previous attempts to negotiate a peace deal have foundered, but some analysts say Gaddafi's entourage — if perhaps not the Libyan leader himself — may look for a way out as air strikes and sanctions narrow their options.
Gaddafi's daughter Aisha said last week her father would be prepared to cut a deal with the rebels though he would not leave the country, and his son, Saif al-Islam, has said Gaddafi would step down if that is what the people of Libya want.
GADDAFI THREATS
U.S. Secretary of State Hillary Clinton on Saturday stepped up Western calls on Gaddafi to quit, brushing off his threat to attack Europeans in their homes and offices.
"Instead of issuing threats, Gaddafi should put the well-being and the interests of his own people first and he should step down from power and help facilitate a democratic transition," Clinton told reporters on a trip to Spain.
In an address relayed to some 100,000 supporters in Tripoli's Green Square on Friday, Gaddafi urged NATO to halt its bombing campaign or risk seeing Libyan fighters descend on Europe "like a swarm of locusts or bees".
"Retreat, you have no chance of beating this brave people," Gaddafi said.
"They can attack your homes, your offices and your families, which will become military targets just as you have transformed our offices, headquarters, houses and children into what you regard as legitimate military targets," he said.
A rebel spokesman in Misrata, about 200 km (130 miles) east of Tripoli, said two rebel fighters had been killed on the outskirts of the city, where they are struggling to push back government forces and advance on the capital.
"The (pro-Gaddafi) brigades heavily bombarded Dafniyah and Bourouia last night. Two revolutionaries were martyred and 12 others wounded," the spokesman, who identified himself as Oussama, said from Misrata.
OIL FACILITIES
In Tripoli, a senior source in Gaddafi's government said there was reliable intelligence indicating the rebels were planning to attack oil export terminals in the eastern towns of Brega and Ras Lanuf.
"The Libyan government will do whatever (possible) to prevent such attacks," the source, who did not want to be identified, told Reuters.
"It urges international oil companies as well as international insurance companies to put pressure on their governments to force the rebels, who are supported by NATO, to stop their destructive operations," said the source.
The conflict has already halted oil exports from Libya, helping push up world oil prices to over $110 per barrel. Most oil facilities have escaped major damage in the fighting.
A document seen by Reuters showed African Union leaders had agreed on Friday that member states would not execute the international arrest warrant for Gaddafi.
The decision left open the possibility that he could go into exile in one of the African Union's 53 nations.
The grouping also offered to host talks on a ceasefire and a transition to democratic government, but did not call on Gaddafi to step down and left open whether he had a future role.
That is likely to disappoint Western powers, which had been urging African states to send an unequivocal message to the Libyan leader to quit.
Abdel-Hafiz Ghoga, vice president of the Benghazi-based rebel council, told Reuters he rejected the African Union ceasefire proposal.
"It includes nothing concerning our demands. We are only demanding one thing: Gaddafi's resignation … We can gain freedom and democracy only if Gaddafi steps down.
Reuters