Egypt's Nabil al Araby replaces Moussa as Arab League chief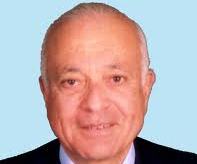 Egypt's Nabil al Araby formally replaced Amr Moussa as secretary general of the Arab League, state media reported. On May 15 Foreign Minister Arabi was elected to replace Moussa, whose 10-year tenure was due to expire
The 22-member Arab organization last May chose Araby to replace Moussa who expressed interest in running for the office of president of Egypt.
Araby, 75, was a former ambassador to the United Nations and is an expert in international law, working at the International Court of Justice from 2001 until 2006. As a young diplomat, he was part of the Egyptian negotiating team that concluded the peace deal with Israel in 1978-1979.
Araby was appointed last march as the foreign minister in Prime Minister Essam Sharaf's cabinet. Mussa 75, was also served as the Egyptian foreign minister from 1991 to 2001 under former president Hosni Mubarak.