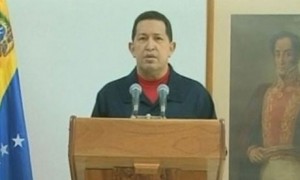 Venezuela's president, Hugo Chavez, has finally returned to the public eye, admitting in a nationwide address that doctors had diagnosed him with cancer, following furious speculation about the true state of his health.
In his first live appearance since undergoing emergency pelvic surgery in Cuba on 10 June, Chavez said doctors had removed "cancerous cells" from his body. "This [is] the new battle that life has placed before us," he said.
Flanked by a Venezuelan flag and a portrait of Simon Bolivar, the South American liberator, Chavez said he had committed a "fundamental mistake" in not taking better care of his own health.
"I neglected my health and I was reluctant to have medical check ups. It was a fundamental mistake for a revolutionary," he said, directing his speech "to the Venezuelan people and the international public opinion".
Chavez slipped off the radar at the start of June when he embarked on a tour of South America and subsequently underwent emergency pelvic surgery in Cuba.
In his Thursday night address, broadcast on national television, an unusually reserved looking Chavez who read rather than improvised his speech, said Cuban doctors had detected "a strange formation in the pelvic region" following the first round of surgery.
During a second operation they found "cancerous cells", he said, without specifying which kind of cancer had been detected.
Normally a media animal, Chavez had all but disappeared since being admitted to hospital in Havana earlier this month, virtually abandoning his Twitter account and appearing only in the occasional photograph or video.
His extended absence has sent Venezuela's rumour-mill into over drive. Allies had continued to insist that the Venezuelan president would shortly return to Caracas, but rumours that Chavez was suffering from prostate cancer or had slipped into a coma spread like wild fire. In Brazil, gossip columnists suggested Chavez was also suffering from lung complaints after starting smoking again.
"I have also been aware of a certain degree of concern and uncertainty that has… [affected] the Venezuelan
nation on top of the attempts at manipulation by some sectors of society that are well known to all. Those feelings are inevitable and are part of human nature," he said.
But the Venezuelan leader gave no hint as to when he might return home, closing his speech with the words: "Hasta el retorno" or "Until my return.
"We have full confidence that he will be victorious in his battle, as in all his battles," Elias Jaua, Venezuela's vice-president, told state television immediately after Chavez's speech. "We are the sons and daughters of Bolivar. There is no time for sadness; only for courage to face the recovery period. We need to be united. We call on you to unite."
Venezuela's usually outspoken president had been tipped for a triumphant homecoming on 5 July, when his country celebrates 200 years of independence from Spain.
But on Wednesday authorities in Caracas announced he had cancelled a summit of Latin American leaders that would have coincided with the independence celebrations.
With a 2012 election on the horizon, analysts are divided on the impact Chavez's absence could have on the presidential race. Most agree, however, that his sudden withdrawal from frontline politics has underlined a lack of leadership alternatives.
"The absence reveals even more clearly how dependent on the president the top leadership of the ruling party has become," said Javier Corrales, a political scientist and Venezuela expert, from Amherst College in Massachusetts.
"The notion of a chavismo without Chavez… seems to be inconceivable for chavistas."
Photo: Venezuelan President Hugo Chavez addresses the nation during a televised speech on June 30, 2011 in this still image taken from TV. Photograph: Reuters Tv/Reuters
Guardian