STL indicts four Hezbollah members over Hariri car bomb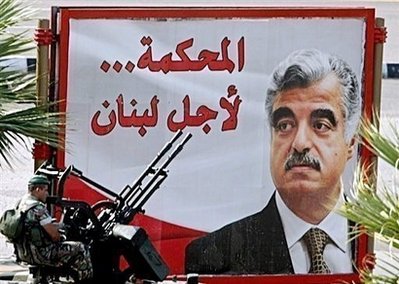 Lebanon's senior prosecutor has received criminal indictments for four members of the Shia militant group Hezbollah, who are accused of assassinating the country's former prime minister Rafiq Hariri in a car bomb attack six years ago.
The move is a significant step in an investigation into the attack that killed Hariri and 21 others on the Beirut waterfront on 14 February 2005.
Security was immediately tightened in the city after investigators from the Hague-based Special Tribunal for Lebanon visited the offices of the prosecutor general, Sayyed Merza, who now has the discretion to name the suspects.
Within minutes of the meeting finishing, Lebanese media outlets named the men as Assad Sabra, Hassan Issa, Salim Ayachhe and Moustaf Badredine, all senior members of Hezbollah. Hariri's son, Saad, welcomed the indictments and called it a "historic moment".
Hezbollah did not respond immediately to the indictments which, if they led to convictions, would pose a serious threat to the group's claim as a nationalist resistance movement.
One senior official said this morning that Hezbollah felt it had done enough to prepare for the indictments with a lengthy and vocal campaign to discredit the investigation.
Elsewhere, members of Hariri's political bloc called on the Lebanese parliament to continue support for the tribunal, which Lebanon partly funds.
Hezbollah and its political allies, roughly half the country's Druze and Christians, had been trying to force a government led by Saad Hariri, to withdraw support for the tribunal and stop funding it.
After realising Hariri would not agree, Hezbollah and its allies quit the cabinet in January, causing the collapse of the unity government. The bloc now has a slim majority in government, which it will likely use to target the tribunal.
Lebanon's cabinet will distribute a policy statement on Friday on how to deal with the tribunal. Regardless of its stance, the tribunal will hold hearings in The Hague later this year.
The legitimacy of its claims will likely first be contested in districts of Lebanon, which remain deeply split and seemingly implacably aligned behind sectarian banners.