Aoun: March 14 presence in government was a crime against Lebanon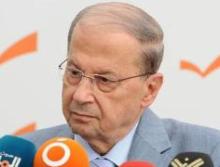 Change and Reform bloc leader MP Michel Aoun launched another attack on on Tuesday against the March 14 alliance following his bloc's weekly meeting.
He said : The presence of March 14 MPs in the government was a crime against Lebanon," adding that "tomorrow we will tell you the crimes they committed."
Aoun said the commission probing the accounts of past government has uncovered "a lot of breaches that were committed by the Finance Ministry."
Aoun also tackled the issue of the Special Tribunal for Lebanon (STL), saying its upcoming indictment "will not affect anything."
"Regarding the drafting of the Ministerial Statement, it is going well. We hope to finalize it this week and resolve the part in it that deals with the STL issue, " he said
Aoun also said that the tribunal's work would not stop if the Ministerial Statement does not recognize the STL, adding we want justice too and why all this fuss about the STL clause" .
He added that the discussions over STL are limited to Hezbollah and PM Nagib Mikati .
Asked about the report in al Diar newspaper about the dispute over the STL clause he said : Who reads al Diar?
Commenting on the uprising in Syria he said:
"We addressed the developments taking place in Syria and we hope there will be an end to the events," adding that "Washington will soon shift its opinion on the matter".
Minister of the Displaced Alaaeddine Terro, a member of MP Walid Jumblatt's parliamentary bloc said on Saturday that corruption allegations need to be backed with evidence, otherwise they will be considered void.
In 2006 former Prime Minister Fouad Siniora submitted a bill to parliament that would contract global financial companies to audit state accounts since 1989, but Aoun reportedly rejected the proposal and wanted the auditing to take place as of 1993.
According to observers Aoun rejected Siniora's proposal because such an investigation would cover the period of his disputed presidency. Aoun reportedly stole $50 million from the Lebanese treasury in 1989. Following his defeat by the Syrian army on 13 October 1990 he went into exile to France.