Gemayel: The cabinet is to serve Hezbollah's arms and oppose STL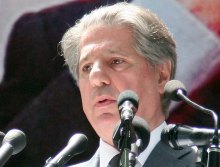 Former Lebanese president and current Phalange party leader Amin Gemayel told New TV on Sunday that Hezbollah is not a charity organization .
His comment is a possible reference to the allocation of 7 ministers to the Sunnis instead of six . The purpose was to include Faisal karami son of the former PM Omar Karami , a staunch ally of Syria and Hezbollah. During a press conference in Tripoli Maan Karami, Omar Karami's brother , said that the Karami family does not accept "charity" from anyone in Lebanon and is not honored for being represented by his nephew Youth and Sports Minister Faisal Karami.
Gemayel said : "We have no problem with Prime Minister Najib Mikat nor with some of the ministers, but this cabinet was formed for the specific purpose of serving the Resistance arms ( Hezbollah's) and for opposing the Special Tribunal for Lebanon (STL) ."
Gemayel added that his party is concerned that the ministerial statement will include ambiguous articles as far as the resistance arms and the STL are concerned
Gemayel also said that his party is not bound by the March 14 General Secretariat statements, because none of his party's representatives took part in their drafting. Gemayel was out of the country and his son Sami called to apologize for not being able to attend)
"We want to be an objective opposition, and we are not bound by March 14 General Secretariat's statements when it threatens to organize street protests," he added.
Commenting on the absence of former PM Saad Hariri as a result of the threats against his life , Gemayel said: " Every political leader's life is threatened" adding that he expects Hariri to come back to Lebanon soon.
The issue of the Special Tribunal for Lebanon (STL) continues to delay the drafting of the ministerial policy statement of the new cabinet and efforts to bridge the gap between Hezbollah and Prime minister Mikati have not been successful so far.
The Special Tribunal for Lebanon (STL) an international tribunal was created for the prosecution of those responsible for former PM Rafik Hariri's assassination . Hariri was assassinated on on February 14, 2005. The tribunal also has jurisdiction over a series of other attacks in Lebanon (between 1 October 2004 and 12 December 2005) if they are proven to be connected with the Hariri assassination. The court is based in Leidschendam, near The Hague, in the Netherlands and it has a field office in the Lebanese capital Beirut.